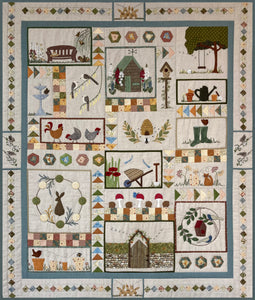 In My Garden - Block of the Month
Regular price $35.00 Sale
Linda Earl has brought her design magic to the project from welly boots to bird houses these lovely blocks reflect all aspects of your garden.  Besides the hand applique there are delicate pieced filler units and borders.  The applique and embroidery are all worked on a linen background fabric.  There are 17 applique panels in the body of the wall-hanging and another 4 in the border.  There are some foundation pieced hexagons, lots of flying geese and tiny squares.
Each month you will receive all the fabrics, full size template sheet, full size layout diagrams and detailed instructions to make part of the project, most months you will make two different panels, but then you move on to the filler units, borders, and binding.
The programme runs for 11 months and includes full instructions, with full size templates and pattern layouts, all the fabrics for the blocks,borders, and binding.
This project will soon be available to buy as a one off purchase. We can still sent it monthly or as one delivery the choice is up to you.
We can supply a backing fabric and wadding pack at additional cost, just give us a call.
Difficulty Rating: 4 Spools
Finished Size: 46" x 39"