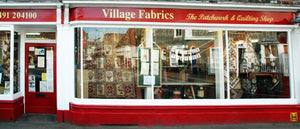 Village Fabrics is a quality patchwork and quilting shop located in the picturesque town of Wallingford. We offer quilting supplies, quilt kits, batik fabric, patterns, patchwork fabric, advice and much, much more - feel free to have a browse! Here at Village Fabrics, we not only boast one of the best patchwork stores in the UK, but we also have a permanent Christmas Room and offer an extensive range of patchwork kits and patterns in our online catalogue for you to browse and buy at your leisure. Additionally, feel free to come along to one of our patchwork and quilting classes, packed with great content and taught by experienced fellow quilters. We hope to see you there!
Yvonne will be on Sewing Street on Wednesday, 29th November at 9am.
A slight change of time to 9am, it does give you time to have breakfast! Yvonne is just doing one hour this month, when she will be doing a round up of the projects that Village Fabrics has brought to Sewing Street this year. She will also be talking a little about next years Japanese themed Block of the Month. Impressions of Japan.

If you missed Yvonne demonstrate these projects live on Sewing Street catch up on the Sewing Street YouTube channel.
---
Find your next project......
As Seen previously on Sewing Street
Batik fabrics at Village Fabrics
This is the batik corner of the shop. You can also see some of the unique fabric bundles and kits that Village Fabrics have created. Enjoy.